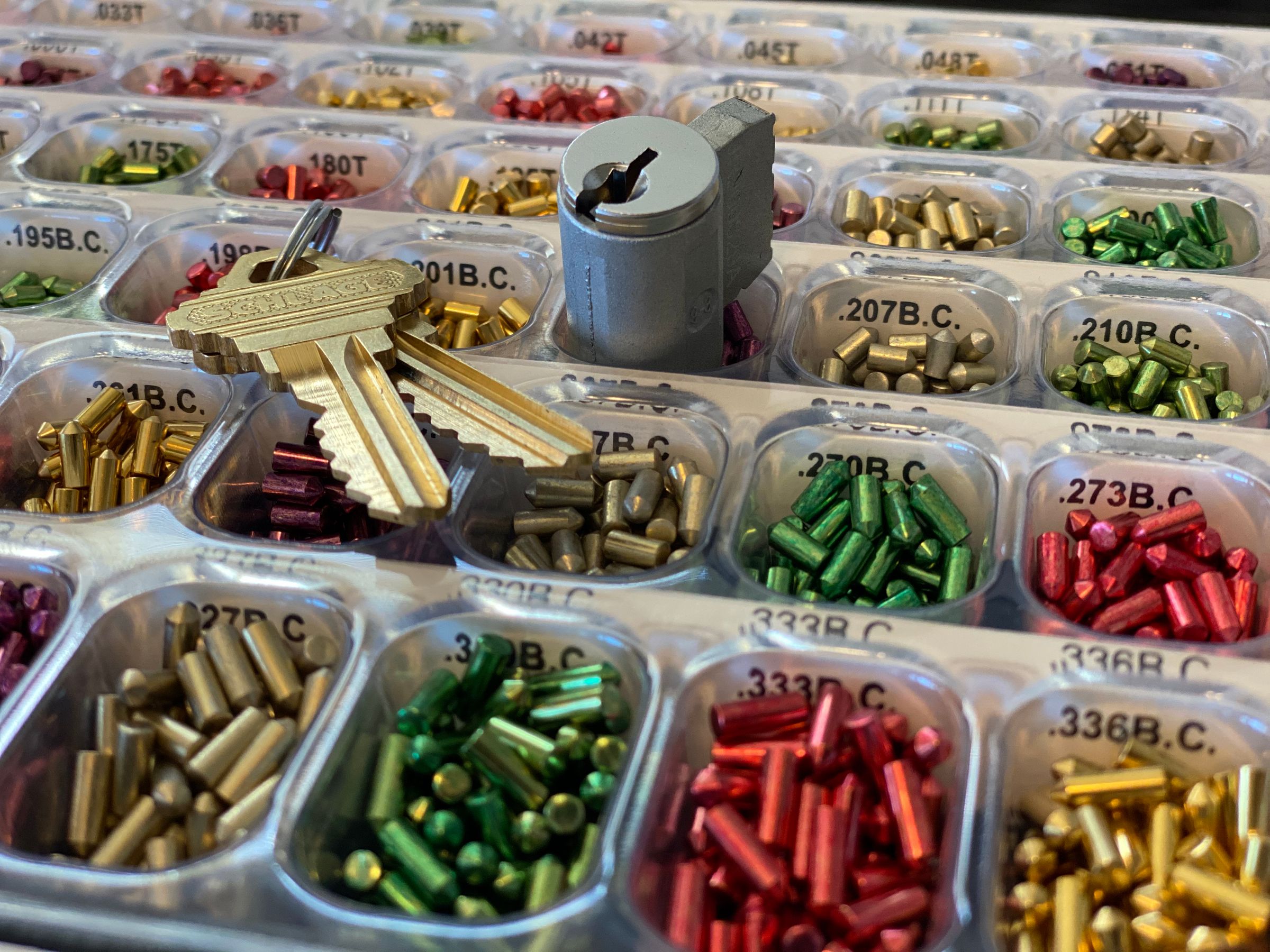 Is it time to replace your existing lock or upgrading your lock hardware?
Lock Change
Deadbolt & Knobs
Smart Locks
Decorative Hardware
Lock Cylinders
Mortise Locks
Electronic Access Control Systems
Electric Strikes
Exit/Panic Devices
Door Closures
Door Accessories
and more!
Having the right door locks and hardware ensures your building's safety. Broken or damaged locks, on the other hand, can leave your building, belongings, and people unprotected. Black Bear Techs provides service, repair, and replacement on commercial and residential locks.
Maybe you want to switch all your locks to all accept a single master key or don't want a current key holder to have access to your home anymore. After a break-in, it can be incredibly nerve-wracking to think that maybe someone else now has access to your property! Lock rekeying changes the lock to accept a different key instead of the current one. One of the simplest ways to keep your home safe and secure is to closely manage your keys, making sure you and those you trust are the only ones with access to your home.
Integrate the world's leading smart lock technology into your home or business. Our experts will take the time to help you determine which lock type you need. Our integrated solutions are especially powerful for vacation property rentals, where automated guest codes eliminate the need for keys that can get lost. As RemoteLock®d dealers and partners with Brivo®, we're uniquely equipped to revolutionize your security in all the right ways.
Black Bear Techs fully services master key lock systems, including design, installation, replacement, duplication, and repair. Our locksmith technicians can also re-key your existing locks to create a master key system, without replacing hardware.
Nothing says, "Welcome!" to your property's guests like a great looking and secure smart lock. Provide your guests with a more effortless self-check-in experience and the convenience of no keys during their stay. Get alerts when a code is used and easily add or remove codes remotely to help with last-minute rentals or cancellations.
Changing the locks promptly when a foreclosure occurs or a tenant is evicted is a crucial safety precaution for property managers and banks. Let Black Bear Techs take some of the worries out of evictions and foreclosures by calling our security professionals for expert commercial lock change service. When you contact Black Bear Techs for eviction or foreclosure re-keying service, our licensed Locksmith will be on site with the sheriff at the time of eviction or foreclosure to re-key the tenant's locks quickly and effectively.
Black Bear Techs is a licensed and insured professional Locksmith specializing in electronic locks.
Black Bear Techs is licensed to provide Burglar Alarms, Fire Alarms, and Personal Emergency Response Systems.
Black Bear Techs carefully selects the most effective automation technologies for each customers specific project and programs them specifically to meet your needs.